T he growth of the IT industry has been exponential that its hard to find the time and staff to meet mission critical deadlines. We at Strata provide you cost effective application sourcing services through two of our facilities. Each project is given detailed attention through all its stages:- Design, Development, Quality Analysis, Regression Testing, Documentation and Onsite installation. We take pride in the quality of our work and would willingly meet with you to discuss your requirements at no cost.

Our facilities can be used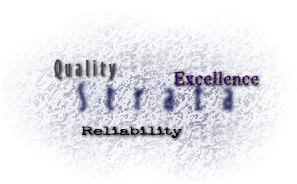 as a full cycle development center or as a temporary peak load resource. Our development team is equipped with highly skilled engineers who have been through full cycle development projects. Internet technology puts our communication in a fast mode for our developments done in India. Our services are very cost effective since we optimize our resources to deliver required results.
Our current expertise fall under the following fields:


Web Database Applications


Internet/Intranet Architecture


Client Server Systems


Avalon front end conversions.
Each project is assured the personal supervision of a project manager to ensure that the milestones are met as per client requirements. Our support team provides technical support in case of post-installation issues. At Strata, we are known for our reliability in producing quality work.